Can we do without a tree? It's a question we've never asked ourselves, but it's obvious that wood is everywhere… In our homes, of course, with our furniture, paneling, parquet, decorative items, and even some dashboards. Wood is a perpetual resource, but not completely inexhaustible, even if most construction wood comes from sustainably managed and therefore renewable forests. Wood is also widely used in tiny houses, motorhomes, caravans or any other mobile home. It is light, easy to work with, and by combining several types of wood, you can achieve excellent results. The tiny house of Guincho that we present to you today is a perfect example. Opening!
Tug Guincho by Madeiguincho
Madeiguincho is a Portuguese manufacturer of wooden houses whose values ​​are:
Respect for the purity of wood; a guarantee of quality, dedication and durability.
Application of knowledge and methods, both ancestors and contemporaries.
Project and environmental sustainability.
The developer recently unveiled Guincho Tow, a small home nestled in the heart of the forest that combines different woods, lacquers and grains for an extraordinary result. And the manufacturer even gives us plans for this very beautiful model!
Appearance of Guincho Tow
Seen from the outside, the tiny Guincho Tow house seems very simple with its sloping roof, which makes it look like a large… Note that it does not have not meant to be ridden and that it doesn't have a very aerodynamic shape, but oh well! Entrance at the back with a huge glass door and a very original wooden structure… There is no risk of getting a dark interior, even the mezzanine hasa small skylight to view the sky, on a full moon! For the cladding, the Portuguese builder chose light wood slats and a slightly sloping roof, a bit like a hayloft.
Inside the Guincho tugboat
Inside, the space is reduced, but the well-thought-out layout gives a feeling of spaciousness … On the ground floor there is a living room with a sofa bed, a bathroom, but no kitchen. For food, you will have to deal with a wood burning stove or add an outdoor kitchen depending on the needs of the owner. The bathroom has a rain shower and shell carved from wood. Upstairs there is a mezzanine which houses the bedroom, storage room and a small charming skylight!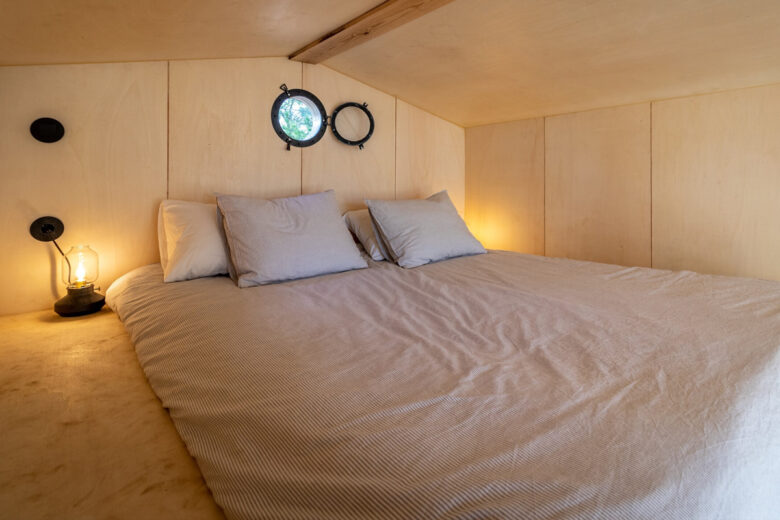 How much is Guincho Tow?
It's a small minimalist space that transforms this tiny house into a very nice little hut that stores only the essentials, Price…