July 07, 2022 Antoine Frelon
Les Merveilleuses Estivales is located at the foot of the Epinal Basilica.
"Place aux producteurs" becomes "Les Merveilleuses Estivales", but retains its concept of a regional market at the foot of the Épinal Basilica, in the company of Je Vois la Vie en Vosges Terroir labeled producers and craftsmen. The event takes place every Thursday in July and August from 16:30 to 20:30.
Every Thursday in July and August, Merveilleuses Estivales welcomes you at the foot of the Épinal Basilica. Come and share a refined and friendly moment with family or friends over an aperitif made with local produce.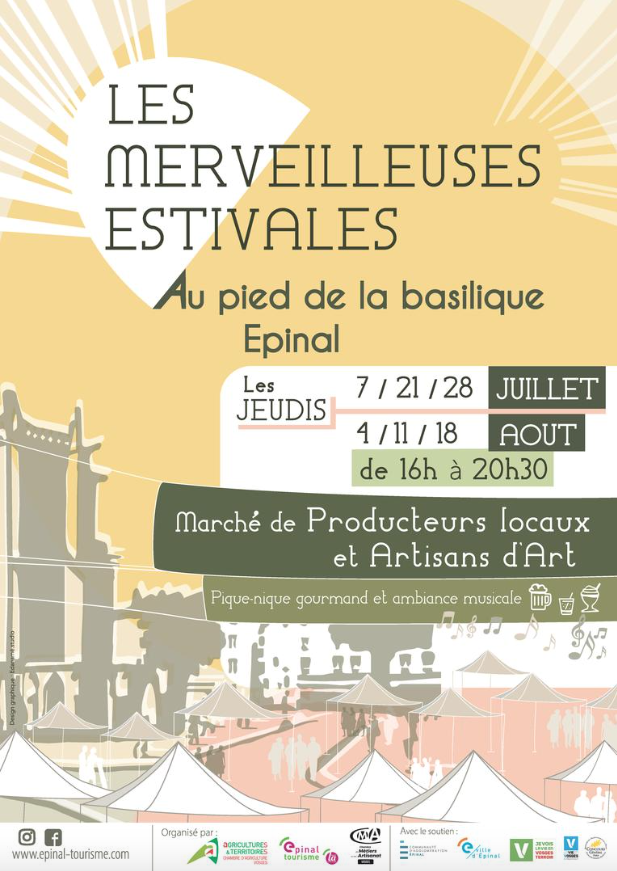 Producers with the sign "I see life in Vosges Terroir" welcome you from 16:00 to 20:30 to show you the extent of their know-how. Take a seat at the tables around the basilica to enjoy a selection of charcuterie, a slice of cheese, gazpacho, or ice cream prepared by a local producer.
It is also an opportunity to visit the demonstrations offered by the masters and appreciate their incomparable know-how and their creations on different topics every Thursday. Or shop at the farmers market or sit down at the foot of the basilica to split a break and have a gourmet picnic with good local products: beer, fruit juice, Lorraine pate, gazpacho, pancakes, ice cream, cheese plates…
On the occasion of this first market of the summer, this Thursday 7 July, the winners of the 2022 Concours Général Agricole in the Vosges and the masters will be honored with a graduation ceremony at 17:15.
wonderful summer
Every Thursday, in July and August, from 16:30 to 20:30.
At the foot of the Basilica of Epinal
Free access
Information: www.tourisme-epinal.com