ON BOARD DISNEY WISH. In a way, Disney Wish is less like a cruise ship and more like a floating theme park.
This impression was formed as soon as I stepped aboard the ship, which set off on its maiden voyage on June 29th with loads of character interactions, immersive experiences, and carefully crafted thematic areas.
Upon entering the Great Wishing Hall – its equivalent of an atrium – the ship's overarching "charm" theme was fully on display, with the real-life Rapunzel greeting the guests from a small balcony. The fairy tale-inspired space, which also features the cruise line's first atrium stage, appears to be tailor-made for performances and character performances.
The bright and airy Great Hall is certainly different from the atriums of Disney's other four ships – Magic, Wonder, Dream and Fantasy – all decorated in a much more traditional Art Deco or Art Nouveau style.
The adult Star Wars: Hyperspace Lounge features a "window" behind the bar that offers views of planets and ships from the Star Wars universe. Photo Credit: Christina Yelski
But without such different design styles helping to tie Wish together in the same way, I was curious how effectively Wish would be able to bring together such different franchises as Frozen, Marvel, and Star Wars.
The ship hits the spot on this front, using small details to help transition smoothly from one theme area to the next. When one enters Arendelle: A Frozen Dining Adventure, for example, a very long hallway is adorned with frosted, snowflake-covered portholes, preparing guests before they enter the Scandinavian-style dining room and stage.
And while the line calls Wish's AquaMouse its "first Disney attraction at sea," incorporating animated video components into waterslides and creating more Disney-style storytelling, other new concepts such as Worlds of Marvel's "cinematic dining adventure" and Star Wars: Hyperspace Lounge is certainly an attraction-like approach in its approach, combining special effects, video technology and, in Marvel's case, the appearance of Ant-Man and the Wasp to create an immersive experience.
Attraction elements can also be found during the Arendelle Dinner Theatre, thanks to highlights such as the animatronic Olaf moving from table to table and sometimes onto the stage with the help of Disney magic.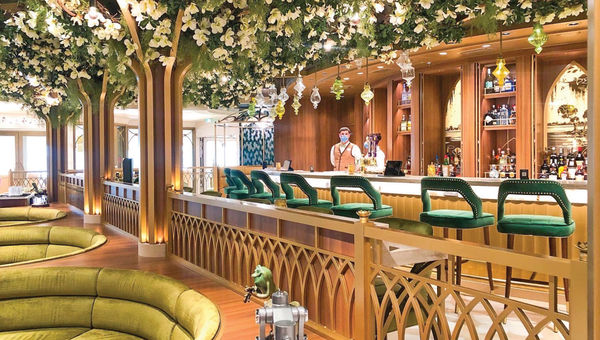 The New Orleans-inspired bar The Bayou is topped with a canopy of magnolias and lilies. Photo Credit: Christina Yelski
reimagining Disney magic
The differences between the Wish and previous Disney ships go far beyond visuals and technology.
One of the biggest changes is the ship's layout, which differs significantly from the existing fleet. Chief among the redesigns is that the ship only has two main elevator units, while other ships have three, according to Alastair Black, Wish's guest services manager.
"It helps the traffic flow, especially around the Grand…