It's Emily's miniature house turn to get everyone's attention… And apparently this tiny house called Piccola Casa is one of Baluchon's latest creations that we hardly need anymore to represent it enough to appreciate it. Baluchon is a French tiny house developer based in the Loire Atlantique that produces personalized and always charming homes. Thus, La Piccola Casa is the year-round residence of Emily, who settled somewhere in Normandy. With its two-tone façade and huge windows, it inspires calmness and serenity.
Tiny house Piccola Casa in detail
in Corsica Piccola Casa means "little house". This tiny house has modern architecture with multiple hooks that give it a crazy charm. The house is surrounded by large windows, one of which gives light to the living room. Outside, the owner opted for a combination of aluminum and wood. Inside, visitors can expect Scandinavian style with light wood furnishings and finishes. Large bench in the living room serve as an extra bed accept friends. Spacious drawers make it easy to store things. The owner chose a 1000W electric heater to heat the bottom of the tiny house. Probably a lover of reading, she also wished library of 6 shelves above the sofa.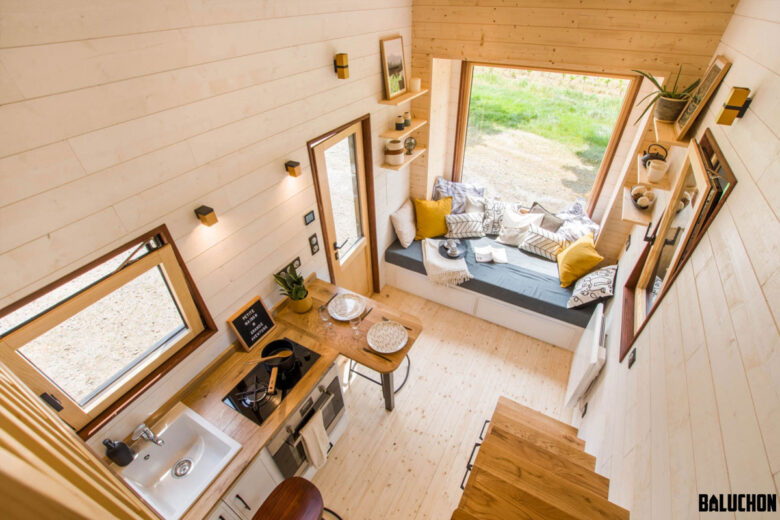 fully equipped kitchen, but not superfluous, will allow Emily to cook delicious food and sit at the high table in the room. As for the bathroom, it's quite spacious for a tiny house and has dry toilets, an 80 x 80 cm shower, a sink and a few storage spaces. On a wooden staircase, which also serves as a piece of furniture, you can get to the mezzanine, where there is a bed for two, a window for sleep with your head in the stars and enough to store clothes and bedding!
Characteristics of Piccola Casa de Baluchon
Chassis: Baluchon trailer with painting option.
Useful length: 6 meters.
Frame: spruce 2nd class.
Insulation: cotton, linen and hemp for floors, walls and ceilings.
Windows and doors: combined wood and aluminum joinery, double glazing.
Rain screen and vapor barrier: Proclimat rain screen and OuatEco vapor barrier (controlled humidity).
Appliances: De Dietrish electric water heater, electric oven, Klarstein refrigerator, Sauter gas stove.
Parquet/floor: Solid heat-treated Landes pine. The slats are screwed to the joists and glazed.
Lid: Aluminum trays with standing seam.
Siding: Red cedar siding with UV protection. Coating of aluminum trays with a standing seam.
Paneling: Raw white spruce and natural spruce…