After two years of closure caused by the pandemic, popular holiday destinations in North Africa are gradually returning to life. Tourism makes up a vital part of national income in countries such as Tunisia, Egypt, Morocco and Jordan, and as such also helps maintain political stability.
"When there is no tourism, the main source of livelihood for the population, it causes a lot of anger and frustration," said Syed Boukidour, a caterer from Qalaat Mgouna in southern Morocco, to DW.
Most of the inhabitants of his small town, famous for its castles and rose plantations, are involved in tourism in one way or another. So far, the recession has not caused any political unrest, Bukidur said. But it affected "the social status of the locals and their livelihood. Prices have gone up and families' needs have gone up," said Bukidur, whose business caters to tour groups coming through the city.
Change jobs or quit altogether
Things are looking up again, he says, and his phone started ringing. But the recent uncertainty during the pandemic, and now the war in Ukraine, means some locals are still considering a full job change, though this is hard to do in Qalaat Mgun, where other jobs are scarce. "This feeling also makes people think about emigrating," Bukidur said.
Morocco reopened its airspace in early February this year after a two-month closure due to COVID-19 concerns.
Research has shown that during the COVID-19 pandemic, when borders were closed and tourists were unable to enter the country, foreign remittances—money sent into the country by expats working elsewhere—helped make up for the foreign exchange deficit left by tourism. And it also made emigration more attractive, Bukidur said.
Tourism is a foreign currency lifeline
Over the past few decades, tourism has become an increasingly important source of national income, bringing billions to countries such as Tunisia, Morocco, Egypt and Jordan.
"Tourism revenue is a lifeline for these countries," said DW Basem Ali, an analyst at Control Risks, a global risk monitoring consultancy. "Egypt, Tunisia and Morocco are not large industrial states. The tourism sector represents one of the very few sources of foreign exchange. And the more tourism revenue, the less likely their governments are to demand [International Monetary Fund] loans," he said.
Prior to the pandemic, tourism accounted for up to 15% of Egypt's gross domestic product, or GDP, according to the OECD. It was up to 10% of Morocco's GDP, 12% of Tunisia and up to 19% of Jordan. All of these numbers have plummeted during the pandemic.
Official records show that each of these countries employs millions of people in the tourism sector – for example, about 3 million in Egypt and about half a million in Morocco and Tunisia. But these official figures only take into account people directly employed in the sector.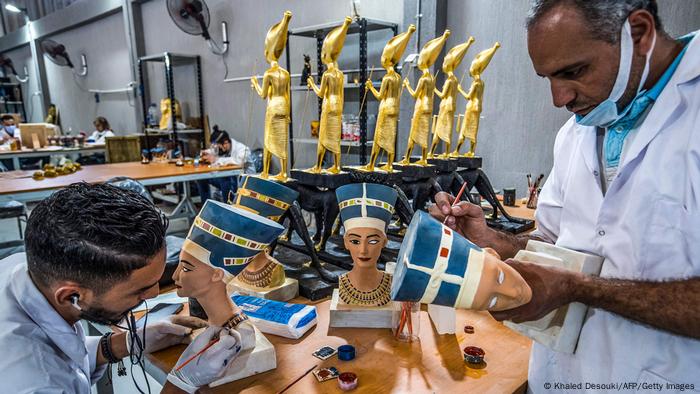 Not all jobs in Egypt's tourism sector are part of the official…
.